For the last decade, era404 has been developing comprehensive Content Management Systems (CMS) for clients seeking the ability to easily and regularly manage their own site content, without developer intervention or maintenance contracts. Over the past five years, however, our recommendations have leaned more and more toward WordPress, the free, open-source blogging system that has competed against Google's Blogger, SquareSpace and Moveable Type. In fact, era404 even retired our own home-grown era404 CMS product, which couldn't compete with the thousands of free, user-submitted enhancement plug-ins and templates from the WordPress development community.
Currently era404 has developed over 30 WordPress sites for clients, including: Walter Mosley, Broadway Video, Beth Kobliner, 13 Rue Therese, Nick Hornby, Frances Schultz, John Hodgman, and My Brooklyn Wine, with three more sites due to launch in the first quarter of 2013.
"We build full-service, content-rich web presences all the time, now, that are fully customizable and adminable via WordPress," ERA404 Technical Director Mike Citarella explains. "Beyond this, WordPress now offers custom taxonomies to display, stylize and organize content easily."
Because of the contributive nature of WordPress, it boasts a repository of over 20K plugins, each written and submitted to accomplish a task, whether it as simple as adding an image gallery or lightbox, or as complex as integrating a caching system and content delivery network. This helps ERA404 to minimize development time and costs by installing and configuring plugins that have been pre-built and time-tested. Translation: WordPress-powered sites are quicker to launch and comparatively less expensive for clients. In specialized cases, where a pre-built plugin doesn't yet exist, ERA404 simply builds new ones (such as ImageMeta, which provides a useful and intuitive interface for grooming metadata and SEO properties for site imagery).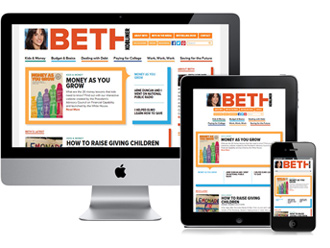 "We were especially pleased at their ability to customize a WordPress site to make it unique and easy to use," said The Beth Kobliner Company's Marisa Bardach about the powerful and intuitive backend controls of the popular blogging framework. But WordPress really isn't just a simple blogging tool anymore.
Recognizing the mobile nature of today's readers, ERA404 also designed and developed responsive layouts for tablets, phones and other devices. "It's important to not only understand our clients' audience," said Creative Director Don Citarella, "but also the needs of the audience as they connect from different devices." A desktop user may be seeking a different type of information from commuters reading RSS feeds on the subway or mothers reading stories to their children on iPads. With the use of media queries and javascript, WordPress helps the reprioritization and presentation data. "It's especially interesting to learn more about our clients' audiences and how we can organize and deliver content tailored to their needs."
In regard to socialization, each WordPress site can be fully and easily outfitted with features for generating user-generated interaction and traffic. Pages, blog articles, image galleries and videos allows users to share what appeals to them via countless web services, such as Twitter, Facebook, Pinterest, and Google Plus. The templates for these shares are setup automatically by WordPress' excerpts and permalinks, and the delivery is handled by AddThis, a service that has revolutionized socializing websites with their free plugins.
"ERA404 is a pleasure to work with!" said Ms. Bardach. "Always eager to find creative solutions, prompt with meeting deadlines, and up-to-date on the latest technology."
Learn more about ERA404's Content Management Solutions (CMS):
era404.com/builds/cms
Inquire with ERA404 about developing a WordPress site for your needs:
era404.com/contact